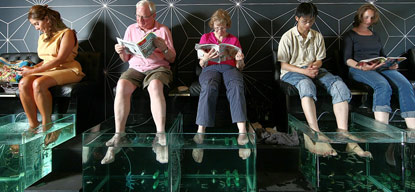 California Fish Pedicure Spas offers various types of fish spa, which provide the highest standards of hygiene and heating.
All our tanks are manufactured with high quality glass, filtration equipment, heating and sterilization are high quality and low consumption of energy, such systems provide similar conditions to the natural habitat of the Kangal thermal waters of Turkey Garra Rufa your fish feel at home.
In the design of our tanks is attentive to every detail so that they are fully functional, low power consumption, easy installation without additional accessories rather than an electrical outlet and easy maintenance.
We have 4 types of SystemSpeed:
America Fish Pedicure Spa model (100 fish).
California Fish Pedicure Spa model (150 fish in the tank and 400 double).
Florida Fish Pedicure Spa model (300 fish per unit).
All our Fish Pedicure Spas ​​are made from high quality glass and sealed with black Silicon industrial high strength non-toxic and luxury finishes (all models), we also acrylic tanks of high quality.
Base blacksmithing and high strength foam. Lining wood moisture resistant melamine white or Maple, we can adapt to the color of your company or your business requires material. Complete filtration systems to maintain optimum water conditions, with safety in case of power failure.
Full oxygenation system and protection. Integrated heating system on the same computer or external controllers.
Conventional metering system Digital temperature.
Water sterilization system by ultraviolet lamps (all models).

Electronic lighting system manual and automatic.
Meters water chemistry.
Garra Rufa fish conditioners and liquid bacteria.
Special food for fish Garra Rufa.
Personalized decoration.
Cushioned seats.
Manuals for installation and maintenance.
Poster advertising attractive to their customers.
Permanent advertising on our website.
In California Fish Pedicure Spa we can develop your project in various types of manufacturing materials such as wood, aluminum, cement, acrylic decoration with rocks, sand, plants, etc.., Lighting can be adapted to your space and taste with impressive LED lighting types and shapes of tanks according to the needs of your business, you just let us know your idea, and we handle the design and development.
We have systems for beauty treatment or therapeutic treatment, each with their own maintenance standards according to the treatment you serve.
Once you prepared the Fish Pedicure Spa ​​this, we will advise you personally on the maintenance of equipment, water and fish, you will receive a manual and a maintenance facility, where this all the information necessary for the proper operation of your team.